Kentucky Quilt Trail

Rowan County Kentucky Foothills Quilt Trail

"The Compass"

# 62 Quilt Square

Location: 8745 Cranston Rd.
Geocode: 38.304585, -83.394847
Directions: From Morehead, west on KY 32 (Flemingsburg Rd.), then right 8.7 miles on Rt. 377 (Cranston Rd.). Barn is at left.


Installed: March 29, 2009 by the Rt. 377 Volunteer Fire Department Firemen Dowe Blevins, Greg Coss, Danny Blevins, Jr., Matt Brown, and Kevin Brown
Barn Owner: Mildred & Lester Evans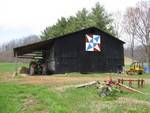 Painted by: FQT Quilt Painting Team

Sponsor: W. Paul & Lucille Caudill Little Foundation, Inc.

Notes: The farm, owned by Mildred and Lester Evans, has been in the Evans family for over 65 years. It joins the old property of Lester's grandfather, J. T. (Bunk) Evans. Most of the "bottom land" has been sold leaving this portion with the barn and a large part of the woodland. The barn was built sometime in the 1960's by Lester's father, Jim Evans, using some of the lumber and posts from the original barn. The barn is now used for storage of farm material, and the shed (built by Lester around 1995) is used for hay storage.
This pattern was selected because other patterns that were the favorites in the family had already been chosen by other people. The one chosen, the COMPASS, fits more with Lester's background and profession of math and physics. The compass is a scientific instrument as well as a tool to help find your way. Being a veteran, the red, white, and blue colors are a natural choice.