Kentucky Quilt Trail

Rowan County Kentucky

Foothills Quilt Trail

"Thunderbird-Sioux Star"
Quilt Square #79


Pattern: Thunderbird/Sioux Star
Location: KY 519
Geocode: 38.147010 -83.418849
Directions: From Morehead, at US-60W & Hwy 519,
go 1.8 miles on Rt. 519 S (0.1 mile past Locust St.), then right on a paved driveway downhill to the bar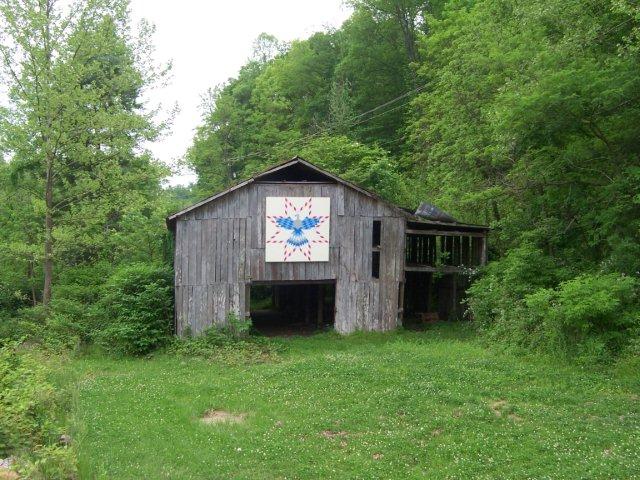 Barn Owner: Jean & Willard Hunter
Painted by: FQT Quilt Painting Team
Installed: Dec. 4, 2009
Sponsor: W. Paul & Lucille Caudill Little Foundation, Inc.

Notes:
Willard and Jean Hunter owned and worked a farm in the Licking River Valley prior to Cave Run Lake. When they had to leave the area, they relocated to Clearfield, and he took a job at Lee Clay Products. They bought a section of the Charlie Wright farm and continued to raise tobacco. They had a sizable farm with a tobacco base on Licking River. When they gave up their farm for the lake, they were allowed to transfer their tobacco acreage to the farm in Clearfield. The house and barn on KY 519 was built in 1962, and the barn was used solely to house tobacco. They had 3 children—Linda, Barbara, and Richard.

The renovation to KY 519 took the road right beside the barn. Once hardly visible from 519, the new route for the road made it a prime location for a quilt block. Not only was it a heavily traveled road with Cave Run Lake traffic, it was also the gateway into Menifee and Morgan Counties. A member to the FQT Committee contacted Barbara, who now lives on the old home place, to see if she was interested in a block for the barn. She didn't have to think twice. Her answer was an immediate "yes."

She went to the public library to check out books to look for quilt patterns. As soon as she saw the Thunderbird/Sioux Star, she knew that was the one she wanted for her barn. Her great, great granddad, Willard's great granddad, was a full-blooded Sioux Indian. Through studies of her ancestry, she knew that the Thunderbird/Sioux Star was the symbol of the Sioux Indian Nation. She wanted to honor her ancestry by using it on her quilt block.

Home
Next Square