Kentucky Quilt Trail



Rowan County Kentucky Foothills Quilt Trail


"Cathedral Window"

Quilt Square #54
Location: 2065 US 60 West
Geocode:

Directions: From Morehead, 2.07 miles on
US 60 West (just past entrance to Hill-N-Dale but before Sealmaster), then left 0.1 mile on Baldridge Cemetery Rd. Barn is straight ahead.This is on US 60 West between Hill 'N Dale and Sealmaster.

Sponsor: W. Paul & Lucille Caudill Little Foundation, Inc.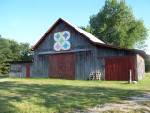 Barn Owner: The Baldridge Heirs
Painted by: Foothills Quilt Trail Painting Team
Installed: September 16, 2008 by Explorer Members David Clark, Adam Day and Joe Grubb.

Notes: Hannah White, daughter of the late Clarence & Bethel Baldridge, submitted the quilt square application and chose this pattern based on a real quilt, made of white and multicolored print material, she now has on a bed in her home. There was a special reason too for choosing this pattern. It was the one used by her mother, who always quilted. This pattern was a pattern used on the last two quilts she made. One of those that Hannah now owns is solid orange and white. Her sister has the other one.
The farm has been in the Baldridge family since sometime in the 1800's. Clarence, who passed away in 1994, had always lived on the farm since he was two years old in 1913. The barn was built by members of the family
about sixty years ago. It stands in front of the Baldridge Cemetery.