Kentucky Quilt Trail

Rowan County Kentucky Foothills Quilt Trail

"Dutch Dolls"

Quilt Square #39
Location: 1464 McBrayer Rd.
Geocode (latitude and longitude): 38.154138 -83.4502966
Directions:
Pattern: Dutch Doll
Location: 1464 McBrayer Road
Barn Owner: Joanne Robinson DeHart and Brenda DeHart Stamm
Painted by: Foothills Quilt Trail Painting Team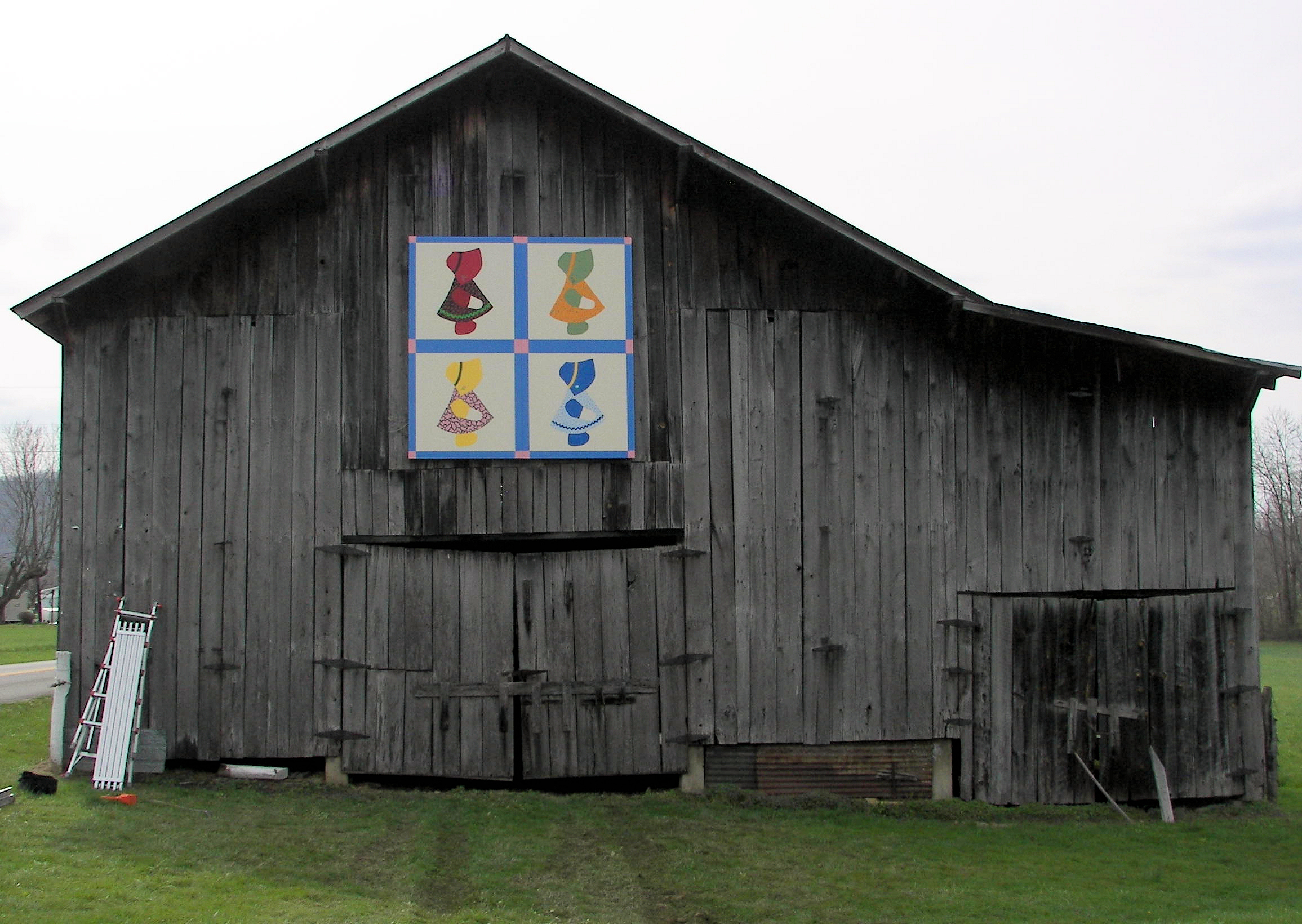 Hung by: Charley Stamm, Walt Rybka, and Gene Buckler
Installed: April 12, 2008
Sponsor: W. Paul & Lucille Caudill Little Foundation, Inc.
Notes:Brenda Stamm submitted the application for a quilt block for her barn knowing exactly the pattern she wanted. She chose a block from a quilt she owned. Brenda's Great Grandmother Mary Lou "Mammie" Jones made the original quilt in her favorite pattern the Dutch Girl from scraps of cotton fabric used in family clothing. She passed it on to her daughter Beatrice Jones Robinson (Brenda's grandmother). Beatrice, being an avid doll collector, changed the name of the quilt to "Dutch Doll." Brenda's Grandmother Beatrice gave the quilt to her. Since she received a quilt block on her barn, Brenda affectionately calls it "Mamaw's Dutch Doll." The quilt hangs on the end of the barn where it can be seen from both Brenda and her Grandmother Beatrice's front porches. Brenda tells visitors who stop by to take a closer look that her Mamaw Beatrice is sitting up there in Heaven smiling down on her block.
The barn sits on a farm once owned by her grandparents Chester and Beatrice Robinson. Beatrice's brother Clell Jones built the barn for his brother Lige around 1937 to use for livestock. The Robinsons purchased the barn in 1944 and have used it over the years to house both tobacco and livestock including a team of white horses used to work the farm. Tobacco was housed there until the tobacco buyout. When Joanne (Brenda's mom) was a little girl, she remembers watching her dad, Chester, milk cows saving some of the milk to feed stray kittens that came into the barn. When Brenda was a little girl, she remembers going into the barn with her Grandpa Chester to see twin Herford baby calves.