Kentucky Quilt Trail

Rowan County Kentucky Foothills Quilt Trail

"Grandma's Fan"

Quilt Square #50
Location: 130 Holly Fork Rd.
Directions: From Morehead, go west on Rt. 32 (Flemingsburg Rd.), then right 8.1 miles on Rt. 377 (Cranston Rd.), then right 0.3 mile on Big
Perry Rd., then left 0.1 mile on Holly Fork Rd. Barn sits at left upon a
small hill. A steep driveway runs to left of barn. An alternate route is
from US60 East then Big Perry Rd. (which has near the end winding steep
downhill curves) then right on Holly Fork Rd.
Geocode (latitude and longitude): 38.293642 -83.387684

Owner: Betty Jo & David Murphy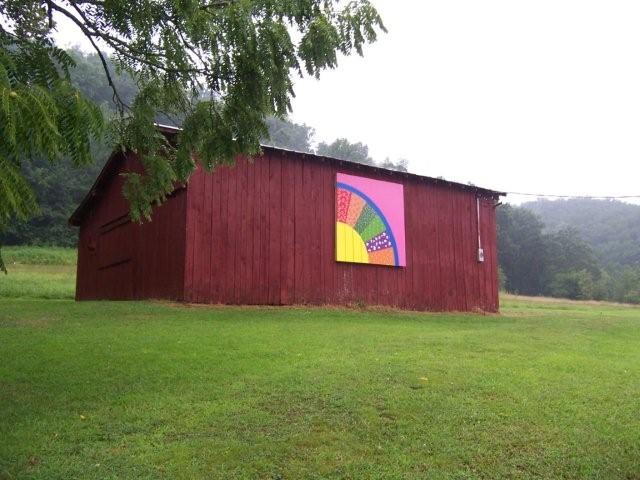 Installed: July 24, 2008 by the Rt. 377 Volunteer Fire Department
Sponsor: W. Paul & Lucille Caudill Little Foundation, Inc.

Notes:
The fan pattern was chosen from an actual quilt Jo's grandmother had
made. The colors used were the same colors used in the real quilt. Jo's
grandmother made the quilt using fabric from dresses she had made for
herself. From the time her grandmother was sick, this quilt was used on
her bed up until she passed away.
The barn was built about fifteen years ago. Since the family had horses
at that time, it was used for them and also as a place for stripping
tobacco.