Kentucky Quilt Trail

Rowan County Kentucky Foothills Quilt Trail

"Rocky Road to Dublin"

Quilt Square #58

Pattern: Rocky Road to Dublin
Colors: cream and 3 shades of green
Location: 101 Lambert Hollow Road
Directions: From West Morehead at the junction of US60 and Rt. 519, follow KY 519 for 0.6 mile then left 4 miles on Dry Creek Road (Rt. 1167). Turn left onto Lambert Hollow Road and go 0.2 miles. Barn is at left near the road. A driveway is between the house and barn.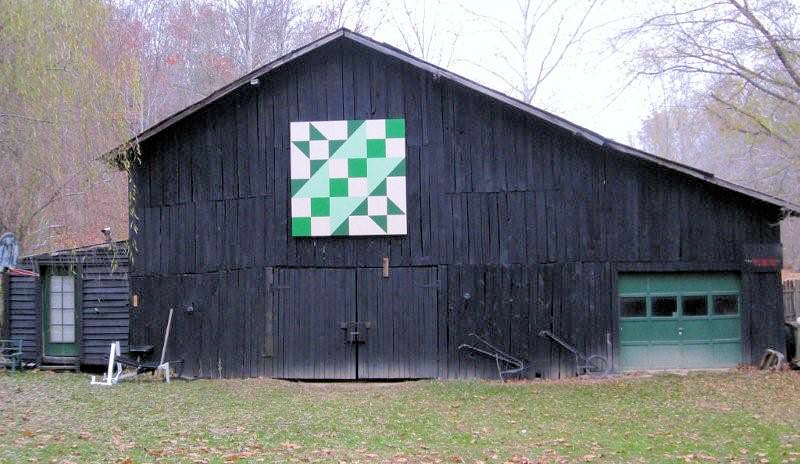 Barn Owner: Diane & Bill Alexander
Painted by: FQT Quilt Painting Team
Installed: November 6, 2008 by five members of the Kentucky Explorers
Sponsor: W. Paul & Lucille Caudill Little Foundation, Inc.

Notes:

The barn is known to be over 75 years old. The farm, with an old house and the barn, was bought in 1937 by Rob and Ruth Workman. The barn looked old to them even then. The Workmans lived there off and on over the years before finally settling on Dry Creek Road. They had replaced the old home in 1965 with a new one. The barn, which was always used for housing cows, a mule and horse and hogs, remained.

Diane and her first husband bought the farm about 25 years ago from another farm owner. After her husband was killed in a car accident 19 years ago and she had to raise 3 children as a single mother, Diane feels life has been a rocky road. She felt this quilt pattern was appropriate for her barn. She asked that the quilt square be painted in shades of green to match the doors on the barn and the color of her house. Now the barn is used to hang tobacco, for storage, and for her sonís band room, when he and his friends want to rehearse or jam.

Diane has hand-pieced nine-patch quilt tops and has had them quilted but thatís the only pattern sheís ever tried making. She has made one for all of her kids for Christmas, and the last two will be given as gifts this Christmas.

This is the only quilt square on Lambert Hollow Rd. It is just a short distance from Dry Creek Rd. (and can even faintly be seen from there) and is just one of two that can be viewed when traveling Dry Creek.


More information about all of the quilt squares can be obtained at the FQT's Websites: http://rcquilttrail.tripod.com or http://littlefoundation.tripod.com A colorful brochure with map is available by contacting the Morehead Tourism Office.