Kentucky Quilt Trail

Rowan County Kentucky Foothills Quilt Trail

"Star of David"
Square # 65
Location: 255 Little Perry Rd.
Geocode: 38.24368 and -83.35099
Directions: From Morehead, west 6.4 miles on US-60E, then left 0.3 mile on Little Perry Road. Barn is at left at the base of a hill and woods.
Barn Owner: Harry & Kay Sparks

Painted by: FQT Quilt Painting Team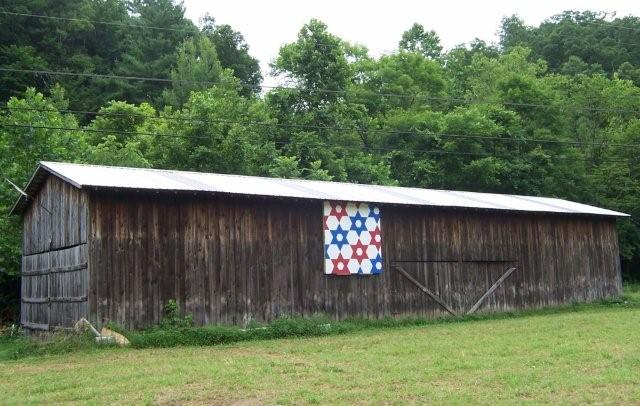 Installed: June 28, 2009 by the Haldeman/Hayes Crossing Volunteer Fire Department Firemen Jerry Bryant, Rick Thomas, Kevin Parker, Steve Bolton, & Ed Stephens
Sponsor: W. Paul & Lucille Caudill Little Foundation, Inc.
Notes: Harry & Kay Sparks wanted to put a quilt square on their barn in remembrance of her mother and their son. The pattern they chose was based on an actual quilt made about 25 years ago by Kay's mother, Susan Hatton, for her grandson Erin Sparks who was at that time about 7-8 years old. She was making a quilt for all of her grandchildren. They both are now deceased, and Harry and Kay own the quilt. Kay additionallly owns about 15 quilts her mother made and some that Harry's mother made.
The farm belonged to Harry's grandparents, Charles & Amelia Sparks. Then it is was owned by Harry's parents and other heirs. When he moved back to Rowan County from Ashland in 1985, Harry got part of the farm along with some other acreage. Their farm is about 60 (+ or -) acres in size. Harry built the barn in about 1993 to hang tobacco and to use as hay and equipment storage. His granddaughters Tyra & Leeanna Jordan Sparks enjoy playing in the barn.
More information about all of the quilt squares can be obtained at the FQT's Websites: http://rcquilttrail.tripod.com or http://littlefoundation.tripod.com