Kentucky Quilt Trail



Rowan County Kentucky Foothills Quilt Trail




"Trip Around the World"

Quilt Square #66

Location: 8545 Cranston Road
Geocode: 38.30006 and -83.394801

Directions: From Morehead, follow Rt. 32 West (just over one mile past the Interstate 64 interchange) to signal light at junction with Rt. 377 (Cranston Rd.), then right 8.5 miles on Rt. 377. Barn is at right near the road.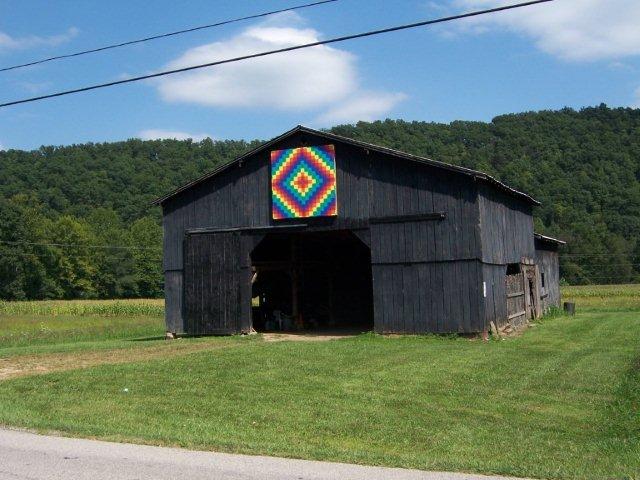 Barn Owners: Fred & Brenda Blanton
Painted by: FQT Quilt Painting Team
Installed: on July 23, 2009 by Rt. 377 Volunteer Fire Department Firemen Danny Blevins, Aaron Riley, Kevin Brown, Greg Coss, Charlie McDaniel, Matt Brown, Evan White, Mike Lewis, and Dale Estep
Sponsor: W. Paul & Lucille Caudill Little Foundation, Inc.

Notes:
Terry Blanton Plank submitted the application for obtaining the barn quilt for her parents. Both of her grandmothers, Thelma Ratliff and Flo Blanton were avid quilt makers. Since both of them had made a version of the "Trip Around the World" that pattern was chosen.
The farm is part of the property originally owned by Fred's grandfather J.T. "Bunk" Evans, purchased in 1957 by Fred & Brenda Blanton. The barn was built by John Sloan in 1958.