Kentucky Foothills Quilt Trail



Rowan County Kentucky Foothills Quilt Trail

Four Star Patch
#85

Location: 1135 Pond LIck Road
Geocode: 38.249815 and -83.457012

Directions: From Morehead, follow Rt. 32 West (just over one mile past the Interstate 64 interchange) to signal light at junction with Rt. 377 (Cranston Rd.) then right 3.2 miles on Rt. 377, then left 1.1 miles on Pond Lick Road. Turn left and follow the driveway past the house and first barn to the second barn.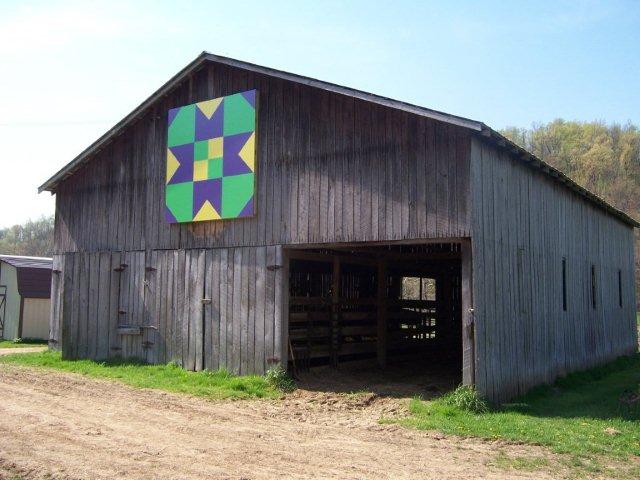 Barn Owner: Wanda & Ival Ison
Painted by: FQT Quilt Painting Team
Installed: March 13, 2010 by the Rt. 377 Volunteer Fire Dept.
Sponsor: W. Paul & Lucille Caudill Little Foundation, Inc.

Notes: Ival and Wanda Ison bought the farm on Pond Lick Road in 1968 from Pat and Mary McGary. The Isons are the parents of four children who were all raised on this farm - Eddie Ison of Winchester, KY, Tammy Maher of Cincinnati, OH, Teena Ison of Lexington, KY, and Teresa Lindgren of Morehead. Ival has built over 50 houses, but when he built the barn about 31 years ago, this was his first barn to build. He has retired from being a carpenter.

There is another older barn on the farm that Wanda wanted to use to hang the quilt square because it could be seen easier from her house and from the road. It was reported to be about 100 years old, and the family was afraid it wasn't strong enough to hold the quilt square panels and frame.

When Wanda submitted her application, she had hoped, if she was approved, to have the pattern Dresdan Plate on her quilt block. Her mother had made a quilt in this pattern. However, since it had already been used by the committee, she had to choose another pattern. She chose the four patch in a star because her mother, Carrie Roberts Jefferson, had made a four-patch quilt, and she loved stars. Wanda and one of her daughters worked together on the design in order to select the just the right colors to be painted on the quilt square.