Kentucky Quilt Trail

Rowan County Kentucky Foothills Quilt Trail

"Hearts
of America"

Quilt Square #60

Location: 650 Cimarron Rd.
Geocode: 38.209146, -83.467381
Directions: From Morehead, west on KY 32 (Flemingsburg Rd.), then right 0.4 mile on Rt. 377 (Cranston Rd.). Just before the Johnson Church of God, turn right and go 0.7 mile on Cimarron Rd.. White barn is at left down a long driveway, which continues behind the barn and then up the opposite side back to the main road. The quilt block can also be seen from the westbound lane of Interstate 64.
Barn Owner: Dwight & Ann Clark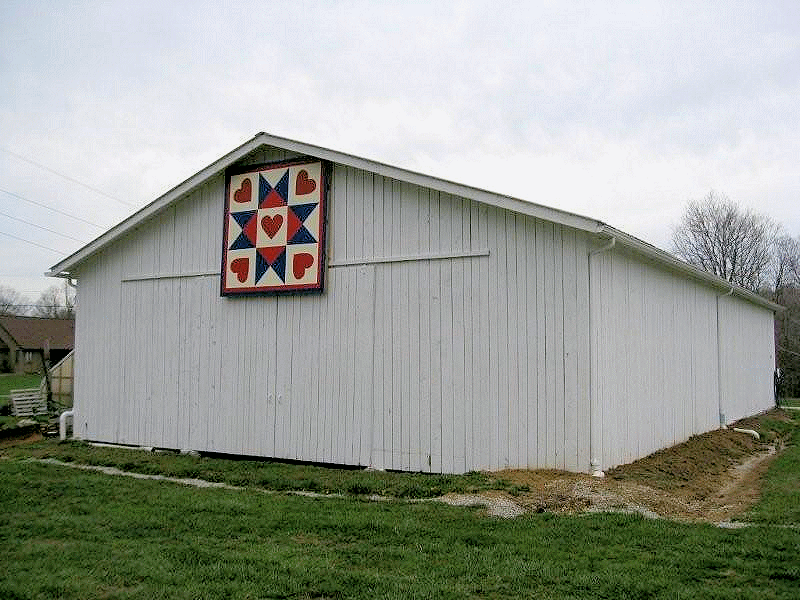 Painted by: FQT Quilt Painting Team
Installed: March 22, 2009 by the Rt. 377 Volunteer Fire Department: Firemen Dowe Blevins, Wes Helterbrand, Danny Blevins, Jr., Phillip Clark, & Darren Blevins

Sponsor: W. Paul & Lucille Caudill Little Foundation, Inc.

Notes:
Formerly known as the Charlie Riddle farm, the Clarks bought this farm twelve years ago. The farm is located across the North Fork of Triplett Creek near the old Johnson swimming hole where a lot of baptisms took place over the years. The barn was built in 1997 and was used as a tobacco barn.. Now it serves as a general purpose storage and equipment shed.

The Clarks knew they wanted a quilt block painted in our nation's patriotic colors of red, white, and blue. Since a flag had already been used on a quilt square in the county, they searched the internet and found just the right pattern they wanted for their barn. The quilt square just happened to be installed on the same day as the Clarks 40th Wedding Anniversary and made for a very nice "unofficial" present.