Kentucky Quilt Trail

Rowan County Kentucky Foothills Quilt Trail

"Pansy"

Quilt Square #61


Location: 675 Seas Branch, Morehead KY
Geocode: 38.190554, -83.330538
Directions: From Morehead, go east on US-60/KY-32 (the Bypass) then at signal light near Rodburn Elementary School, turn right onto Christy Creek Road (Rt. 32 E). Go 4.9 miles on Christy Creek Rd. (Rt. 32E) then left 0.6 mile on Seas Branch Rd. Barn is at left in a field at base of a hill.
Barn Owner: Marvin & Avis Kidd
Installed: March 24, 2009 by the Elliottville Volunteer Fire Department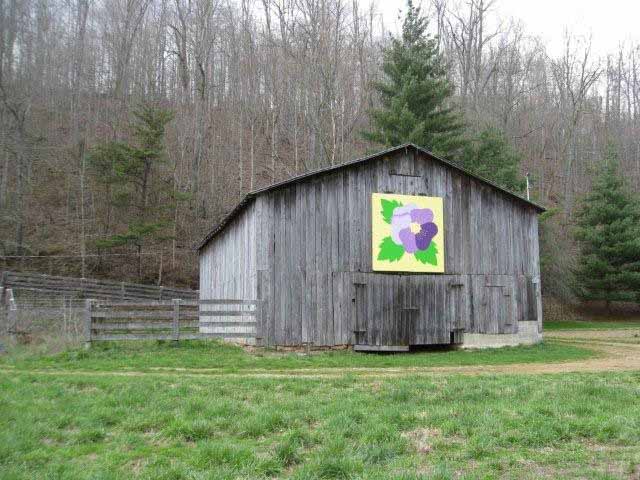 Painted by: FQT Quilt Painting Team

Sponsor: W. Paul & Lucille Caudill Little Foundation, Inc.

Notes:
The barn on the Kidd farm was built in the early 1900s. Marvin's dad,
Lee, bought the farm in 1929. Mr. Kidd can remember his mom and dad
walking the children around the hill to the barn where they climbed into
the loft to escape the water when the house was flooded in l939. Over
the years, the barn has been used to house livestock and tobacco.

Mrs. Kidd comes from a family of quilters. Over the years, she has made
many quilts. However, she is especially proud of the two double wedding
ring quilts that she made for her daughters Pam (a king size) and Tammy
(a queen size).

Mrs. Kidd looked through quilt books to choose a pattern for her barn
block. As soon as she saw the pansy, she knew that was the one she
wanted. She loves pansies and the yellow ones are her favorite. Her
daughter Pam and her grand- daughter Sara Bradley helped her pick the
colors for her block. Sara's favorite color has always been purple.

A few years ago, Mrs. Kidd's quilting club did a pansy quilt. Each
member made a pansy block of varying colors. When the blocks were
finished, they had a drawing, and Mrs. Kidd won all the blocks. She set
them up into a quilt and hired Shirley Howard to quilt it.

Mr. Kidd's niece, Patty Hurt, plans to piece a block to match the quilt
block on the barn and donate it to their quilter's club.