Kentucky Quilt Trail

Rowan County Kentucky Foothills Quilt Trail

"Whirligig"

Quilt Square #76

Location: 27 Amanda Lane
Geocode: 38.148888, -83.390772

Directions: From Morehead, at US-60W & Rt. 519, go 0.65 mile on Rt. 519 S, then left 2.4 miles on Rt. 1167(Dry Creek Rd.). Right 0.4 mile on Nichols Br., then right 0.1 mile on Sugar Br. Then left on Amanda Lane. Barn is straight ahead at end of lane

Barn Owner: Wilburn & Pauline Baldridge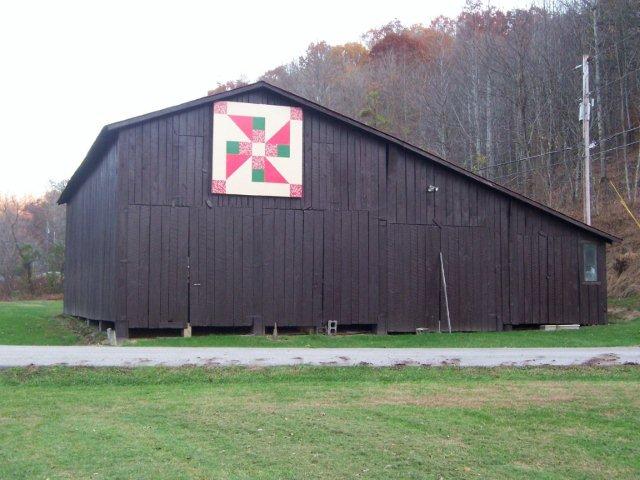 Painted by: FQT Quilt Painting Team
Installed: October 2009 by Grayson RECC
Sponsor: W. Paul & Lucille Caudill Little Foundation, Inc.

Notes:
Pauline and Wilburn Baldridge had a variety of quilts from which to choose when selecting a pattern for the quilt block on their barn. Paulineís mother, Ruth Workman, is a master quilter and has made over 150 hand-stitched quilts during her quilting career. She has given away over 100 of them with quilts going to each child, grandchild, great grandchild, niece, and nephew. Six generations have received quilt gifts from Ruth. The Baldridges favored the bright colors, simplicity, and whimsy of the Whirl-A-Gig pattern for their block especially since it matched the red roof on their barn. The block on their barn is an exact replica of a quilt Ruth made for Pauline and Wilburn several years ago.

Wilburn and Pauline Baldridgeís property has been in his family since the turn of the century. His grandparents, Ben and Darlene Baldridge, purchased the property in the early 1920ís. Wilburnís parents, John and Ada Baldridge, were married in the mid 20ís while John was still living on the property with his parents.

John and Ada sold the property to Wilburnís uncle and aunt who lived there until the late 1940ís. The property changed hands several times over the next 20 years. Wilburnís brother Ernest bought the home place in the late 1950ís. He sold it to his brother Medford in the 1960ís. Wilburn and Pauline bought the property from Medford in 1969. The following year, they tore down the original barn and built the existing barn to house tobacco. The barn is now 40 years old.

There is a huge well on the property (much larger than the typical household well). Through the generations, members of the family have shared the story that the well was used to furnish water for a federal government distillery operation during a short period prior to prohibition.